Boat Wraps
Sail to success with the spectacular graphic design of our vinyl boat wraps. It was initially conceived that gel-coating, spray-painting and colour changing a boat was the only option... and they were until the latest innovative technology and design conceptions grew into fruition. Similar to other other vinyl wrap services that include cars, bikes, buses and trains, Custom Graphics have the experienced skill and knowledge to deliver boat wraps too. The best part? Vinyl boat wraps are waterproof which is obviously essential for a boat, unlike original gel-coating and spray-painting that salt water can ultimately devastate. There is no need to transport your vessel back and forth; we will wrap her in vinyl at your own desired premise. We wrapping boats any sizes and shapes and well known as leading boat wrap company in Sydney.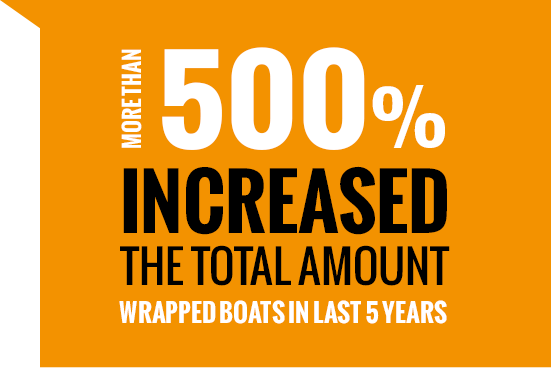 Boat Graphics
Custom Graphics provide a vast selection of highly-detailed boat graphics with the choice of easy editing to suit your own design demands. Whether you have a particular theme or style in mind, we can cater for your creative needs. From a yacht wrapped in Picasso-style abstract shapes to a dinghy covered in bold Cartoon Art, we can meet those needs. If you want to be patriotic and print the Australian flag on the side of your laser or demonstrate a passion for Marine Art as you sail the open waters, we can do that for you too. Sail away with your imagination and drop the anchor on your competitors. We have the graphic design experience to make your business float. We are the only one company who will provide you the whole service under one roof, custom boat graphics and boat vinyl wrap can be done at the same time and designer can control the process to make sure that you will receive exact what you want.
Boat Stickers
The main thing to consider before wrapping a boat is a design, we have in-house design team who've done more that 100 projects related to to boat graphics and will help you to achieve a look which you desier. We here at Custom Graphics enjoy a good boat decal, especially one printed on the side of a boat or a jet ski. Mesmerised beach-loungers, surfers and sailors, even the fish will envy your exceptionally designed watercraft. Our premium boat stickers at Custom Graphics will ensure high-quality accurate precision with the utmost beautiful designs and the endurance to withstand harsh conditions. Vinyl boat stickers are affordable, resilient and crafted from the best vinyl materials to ensure long-lasting Decal and satisfying results for years. The waves have never looked so good. Boat decals such as boat number or name can be quickly produced and design.
Vinyl boat stickers stick to most flat and curved non coarse surfaces like Painted Wood, Plastic, Metal, and Aluminum.
Boat Names
WBlessing a boat with a name is as important as naming a child at their christening. With self-adhesive, high quality boat lettering and beautiful boat graphics to suit a range of vessels and watercraft, Custom Graphics can provide you with a range of options. Waterproof vinyl lettering can be attached to flat and curved surfaces so that she may sail gloriously on the waters with elegant signage and a deserving name.
Letters stick to most flat and curved non coarse surfaces like Painted Wood, Plastic, Metal, and Aluminum.
Boat Numbers
Every boat needs a title. Whether you choose to keep your boat nameless, she needs a number. This can be wrapped onto a boat with vinyl to ensure quality endurance. Similar to letters, numbers are versatile and can cover painted wood, plastic, metal and aluminium. Contact Custom Graphics if you wish to bless your vessel, and give her a name or number. All boat names and boat number will be produced and installer according to RMS requierments.

Jet Ski Vinyl Wraps, Custom boat wrap graphics
Fully customised design or colour change. From gold chrome to exclusive prints, in Custom Graphics we are specialist in wrapping watercrafts. Graphic boat wraps become more popular , there is no limitation and it is the best and the most effitient tool to refresh your boat.