Smart Frame- frameless lightbox
Shape up, look smart. Design your frame the smarter way and allow Custom Graphics to help you create original, spectacular graphics for an lightbox, with the promise of professional and affordable results. We can aid you through the versatile printing process to create simply stunning designs, from intricate detail to the most vibrant colours.
With innovative technology, Custom Graphics can create a Frameless light boxes that polishes any image: perfecting flawless skin tones, sharpening textures and dramatizing lighting. With our industrial-grade alluminium frames, we can guarantee strength, durability and impressive visual impact. A Smart Frame can enrich a consumer's shopping experience and draw the gaze and custom of every passerby.
There is no need for weighty acrylic or glass fittings. A Smart Frame with a bright lightbox designed to be a cost-effective and user-friendly marketing solution with a simple installation processes and exceptional results.

Banners
Whether its for indoor or outdoor use, Custom Graphics has your banner printing needs covered.
You'll find it simple to deliver your company's message, both indoors and outdoors, with fully customisable banners. In our collection there's a right-sized banner to suit every kind of event or occasion. Whether it's something with impact for a trade show, beauty salon or farmers market, or a smaller banner for a more intimate space, you'll find an option that's right for you. We put a big emphasis on quality, so you can be confident your personalised banner will stay looking its best.
High Res LED display - video wall
The latest market spark and glowing lightbulb idea brings you High Quality LED video walls. Custom Graphics have evolved and expanded to bring our customers a digital sensation and an extraordinary, reliable marketing experience using LED indoor applications. This marketing demand is proving to be very popular with commercial businesses so speak with us here at Custom Graphics to discuss how we can offer your business that brighter indoor spark.
Wall Prints
Transform a lifeless office into a bright and bold sanctuary of inspiration with vinyl wall prints. A gigantic wall of vinyl is the only way to motivate yourself to work. This is an affordable option for those who initially believed full wall vinyl wraps could break the bank. We provide tax-deductible custom vinyl graphics so you can indulge your remaining dollars at work on a new coffee-machine. Similar to our other products, vinyl wall prints are easily removable and complement any surface. Plaster your ideas on the wall and marvel at their endurance: the vibrancy of the high quality 3M vinyl graphics will never fade, ensuring a warm, brighter office until your retirement. Office signage never looked so sophisticated.
Our efficient team can promise an effortless installation process with no distractions or disturbances in the office. Once you select your picture or graphic image, we can aid the delivery of your corporate message and set the tone, atmosphere and mood of the work environment.
Aluminium Panels - Aluminium signs
Aluminium is a resilient material that we use here at Custom Graphics to create stylish, sophisticated signage for retail shops, shopping centres, buildings and offices. This is a relatively new and evolved form of sign-making. Light but strong, rust-proof and durable, ACP is a strong aluminium panel with a core that does not corrode from the inside nor swell. This is a favourable option for larger outdoor signs.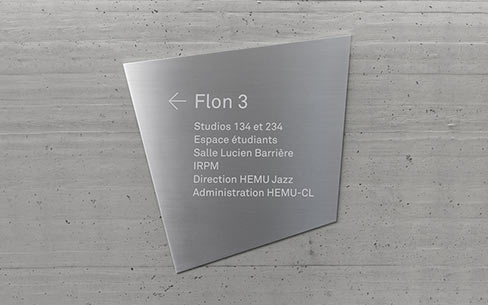 Floor stickers
Display your logo or brand in a creative, new way. Don't ignore the floor! Order your custom floor decals today.
No matter where you put them, Custom Graphics' custom decals put your message anywhere you like. Our precision printing gives you eye-catching graphics for use on packaging, Point of sale displays, or shop front windows. Our Decals can be produced in any number, size and just about any shape.
Most businesses neglect to advertise on the spot their customers will have the most contact with. Use floor decals to guide a customer toward a product or promote a sale. Floor stickers are perfect for reinforcing exiting advertising as well as complimenting Point of Sale. They are also great space savers, ideal for supermarket aisles, shopping centres, retail stores, or staircase landings.
Our high quality Floor Stickers are matt Monomeric SAV with anti-slip lamination, suitable for all flat clean surfaces.