Interior signage
Impact your customer from the inside out. Experience the wonders of a brand new custom-designed interior sign. Here at Custom Graphics, we can assist your business with custom fabricated interior signage by employing a vast range of skilled manufacturing techniques, innovative resources and the best design materials. Our team can guide you through our inspirational design process from initial consultation, creative concept design, material selection and expert installation.
Let your sign shine from the inside.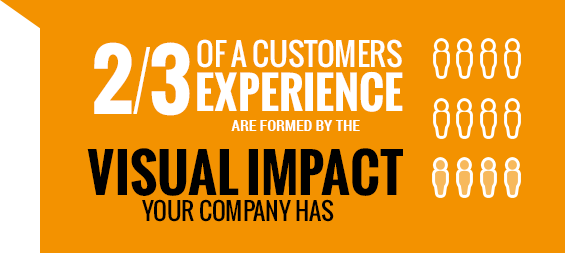 Windows Graphics
Open the window on marketing strategies and breathe in the creative air behind graphic custom-designed glass. Window advertising is a classic method of capturing the attention of passersby and onlookers. Custom Graphics can supply the tools, resources and experience of window design and window signage to create some of the most outstanding, original logos and images to captivate others and allow your business to flourish.
We can advise you on a variety of suitable layouts, vibrant colours, creative designs and quality materials to ensure the visibility and success of your business is as clear as crystal to your customers.
Windows Frosting
Custom Graphics offer high-quality, attractively affordable and professionally decorated window frosting. With a sheer glaze of classic sand-blasted window frosting, you can guarantee privacy in a cost-effective way. Avoid the hassle and financial burden of window replacements; Custom Graphics can supply a premium frosted film product to transform the windows of both residential and commercial properties.
signs
Interior signage is the solution to directing customers, visitors and guests throughout your store, building, office or facility. Signage is fundamental in any institution to advise, inform and enhance the functionality of any business.
Here at Custom Graphics, we employ a vast selection of manufacturing techniques based on the specific requirements of the customer to deliver the most innovative, complex design ideas. We will work with you every step of the way to ensure we create powerful interior signage that meets the demands and improves the style of your facility.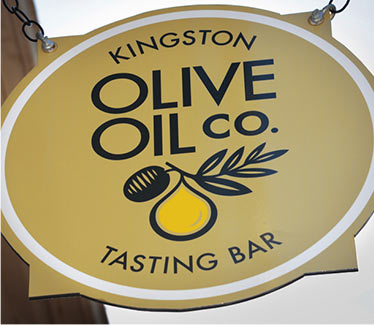 wall graphics
There is nothing more tedious than a blank wall. Simplicity and minimalism is dull and outdated, especially in a home and office setting. Splash your walls with some intricately-designed customised graphics and give your company or home a flavour of your personality and character.
Our self-adhesive vinyl is a favourable choice for office and home design. Your wallpaper can be created from one of our captivating, pre-designed stock images or it can be personally crafted from your own imagination with the optional creative assistance from our design team.
We provide onsite installation service.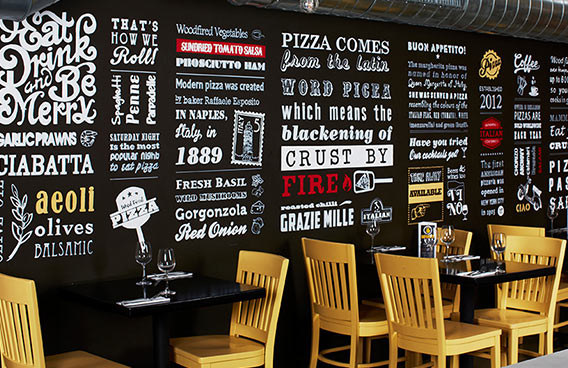 logos
Pictures speak a thousand words; logos are your mirror image. Some brands are so notable and illustrious that even one sighting of their logo can instantly evoke all of their reputable products and services. Some logos are so distinctive, they can render the name of a company redundant as everyone knows what the image means. Logos are essential and we here at Custom Graphics can help you find your image. We would be delighted to assist in the design process of your logo, from initial consultation to professional installation. Vinyl letters are the sticky solution to success: they stick to flat and curved surfaces including metal, plastic, painted wood and aluminium.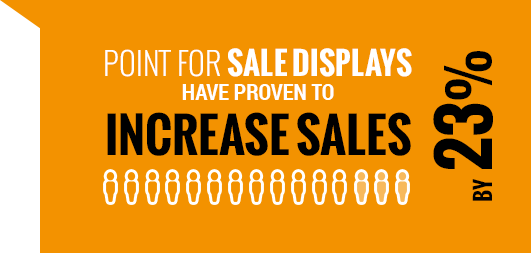 Floor stickers
Step up to new designs and walk over creative ideas. Custom Graphics encourages you to look Down Under and communicate to customers beneath their very feet. We provide floor Decals to direct your business the right way by guiding your customers to a product or promoting a sale. Floor decals are excellent for supermarket aisles, capacious shopping centres and intimate retail stores. You can often find stickers printed boldly over car park stairwells and office landings. We supply supreme, high-quality floor stickers with an attractive matt to ensure anti-slip lamination (so you don't have a lawsuit on your hands after causing that frail old lady to slip.)
With our flawless printing precision and enticing designs on packaging, point of sale displays or shop windows, Custom Graphics can supply Decals on more than just the floor.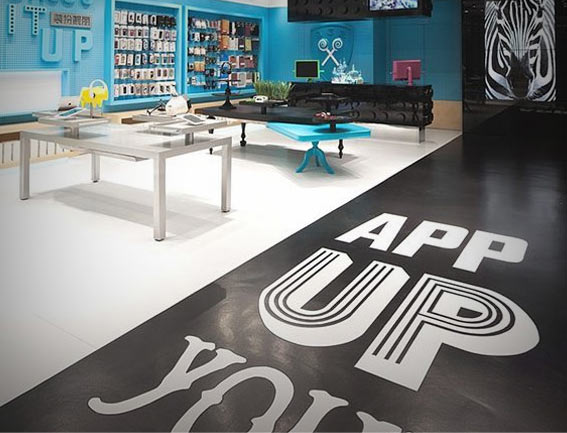 3d lettering
Say it loud, say it proud. Plump up the volume of your lettering and add some depth to your business. 3D signage is a visual delight for customers and lures them in with its sophisticated style and suave effects. Such design leaves an immediate impact on your customer and evokes quality, allowing your business to stand out from the crowd. Here at Custom Graphics, we supply a range of custom fabricated creations, derived from the best materials including aluminium, acrylic, stainless steel and timber.
The bolder, the better. Contact Custom Graphics to discuss ways to improve your options and how 3D signage can amplify your brand.
Call Custom Graphics and talk to one of our project designers and find out how 3D signage can enhance your brand,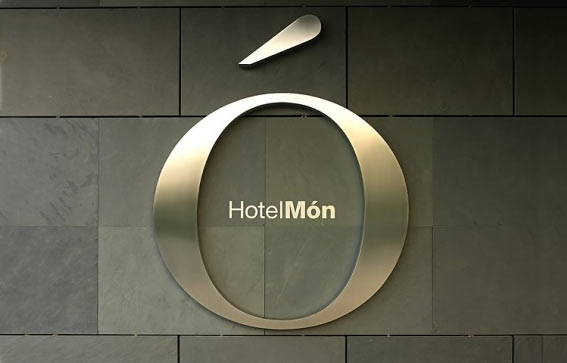 Custom Stickers
Remember those stickers you would put on everything from your locker to your skateboard when you were in high school? Well, we make those too! People of all ages love to decorate the world around them with stickers, making them a perfect way to advertise your message. They are especially handy on cars ( car sticker advertising ), where they can be easy applied to create a rolling billboard. In addition, they are just as easy to remove, so you don't have to worry about messing up your cars flawless paint job. Here at Graphics for Cars we can print your message in bulk, ensuring your message gets plastered all over town. Wide range of services make Custom Graphics one stop solution from car stickers advertising up to business signs.